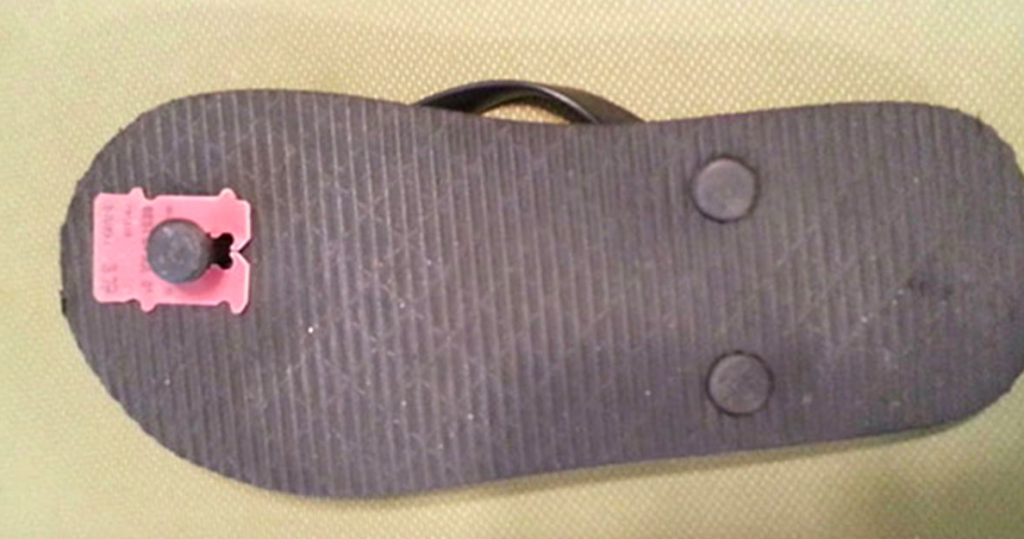 Beach days are fun for everyone! There's nothing better than a little sunshine and vitamin sea to help you feel good. It's what the doctor ordered. Fresh air, activities in the sand, nature, and memories, all of these are soothing for the soul, and they can all be found where the water meets the sand.
However, there are a few things to remember when going to the beach. Here are a few tips and tricks to keeping everyone happy when you make your way down to the water. These are guaranteed to make your fun in the sun even better!
15. Fix Your Flip-Flop In A Jiffy
When the thong of your flip-flop comes through, simply poke it back in and secure a bread tag (or pop can tab or paper clip) between the button and the sole. Works like a charm every time!
14. Frozen Water Bottles As Ice Packs
Save space and ease the load by freezing water bottles then chucking them in the cooler as though they were ice packs. Once they start to thaw, you can drink them too! Plus, they last longer.
13. Fitted Sheet Beach Mat
I love sand, just not on my mat or blanket. Keep the fun in and the sand out with a fitted sheet. Secure each corner down with your coolers, bags, and other belongings to keep it from budging.
12. Makeshift Outdoor Drink Holders
The condensation on the outside of a cold drink always sticks to sand. Avoid the sandy mess by making these outdoor drink holders using soup cans and threaded rods.
11. Sunscreen Bottle Wallet
Disguise your valuables using a sunscreen bottle with the top cut off. Place items inside and don't worry about leaving your money and keys unattended!
10. Pitch A Pretty Bohemian Tent
Forgot to bring a shade structure? Grab some long sticks and secure your beach blankets or sarongs for on-the-spot shade.
9. Sandproof Your Cellphone
It's the worst when you want to take a call, but little grains of sand manage to get lodged inside your phone no matter how careful you are. Avoid this by placing your phone in a plastic sandwich bag! Yes, you can still message and answer calls!
8. DIY Waterproof Stash For Cash
Use a medicine bottle, some nylon cord, superglue and a drill, to make a handy-dandy little portable stash for your cash and key.
7. Mesh Laundry Beach Bag
Leave the sand on the beach when you go home. After you've wiped down all your toys, throw them in the mesh bag. Give one last shake for all the sand to go through.
6. DIY Beach Bag/Towel Pillow
Stitch a towel around a pillow and add a strap for easy, convenient carrying and a comfortable beach set up wherever you go!
5. Sand Be-Gone Using Talcum Powder
For that hard-to-brush-off sand, sprinkle talcum powder on the area that's sandy on your skin and rub. The sand will fall off.
4. Quick, Effective Aloe Vera Cubes For Sunburn Relief
Before you head out, fill an ice cube tray with aloe vera and freeze. If anyone got burnt, glide one of these cooling cubes to the affected area for instant relief.
3. Homemade Frozen Treats
Save a couple of bucks and freeze some Capri Suns or other juices in similar packaging. By the time you get to the beach and have been outdoors for a bit, the packages should be the perfect slushy texture. Remember to bring scissors!
2. Sand-Free Snack Containers
Re-use Coffee-Mate containers as snack containers! Fill with trail mix, peanuts or cereal for snacks on the go. They shake out and snap shut, effectively keeping sand out!
1. DIY Emergency Beach Kit
Better to be safe than sorry. Put together a kit that has band-aids, extra sunscreen, hydrocortisone cream, electrolytes, anything that could help in a pinch if you're far away from the car!
What are some of your hand tips and tricks to ensure that a beach day doesn't turn into a disastrous one? We'd love to read them in the comments below!