It seems like everyone has a mobile phone these days, and text messages are becoming the more popular choice for communication over voice calls. That's totally fine by me but that's exceptionally great news for our canine friends. You see, barking aside, dogs can't speak. Shocking, I know. [googlead]But typing out text messages? Maybe! In any case, here are some hilarious text conversations between a dog and a human.
1. A very convincing argument…

2. Looking out for his buddy!

3. Further proof of canine intelligence.

4. Dog logic.

5. Too much truth in this.

6. Well, when you put it that way…

7. HURRY UP!

8. From one crisis to the next…

9. You can't fool them!

10. It was probably a lousy joke anyway.

11. Be supportive of your dog's goals!

12. An understandable oversight.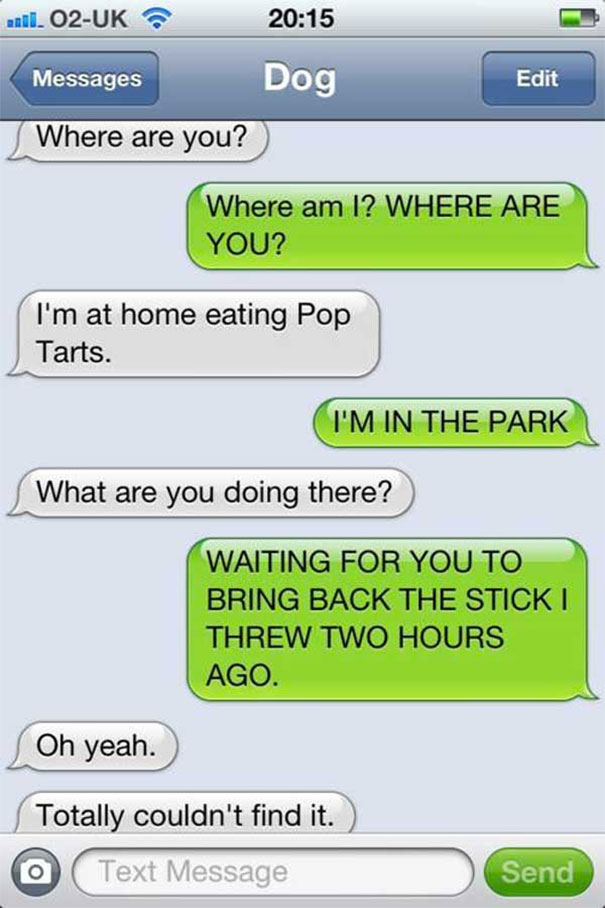 13. I know this far too well.

14. He means business!

15. There can only be one!

16. Thanks, I guess.

17. Touché.

18. Close enough.

19. Riveting tale!

20. Good boy? Not so sure.

21. Seems legit to me.

22. Treat your dog with respect.

23. How to deal with their nemesis…

24. I don't either.

25. Free pizza!

26. LOVE IT!

27. Delicious.

28. Why is it always in a shoe!?

29. Be careful when you leave your dog alone in the car!

Source: textfromdog 
I don't know about you, but I'm going to train my dog to type. He's got pretty big paws, so maybe he'll need a tablet…