It doesn't matter who you are… you like food. If you don't, you're probably lying or you're just someone that I can't ever be friends with. And you know? I'm a pretty awesome friend. So if you don't like food, I strongly advise you to start doing so. Here are some tricks and ideas to nudge you into the appropriate direction. [googlead]
1. Ice cream sandwiches! Grab a hot, sharp knife and go to town on that tub ice cream tub.

2. How do you make a swirly cake? It's actually super easy!

3. My tacos will never fall again.

4. Egg in a burger… because it's the right thing to do.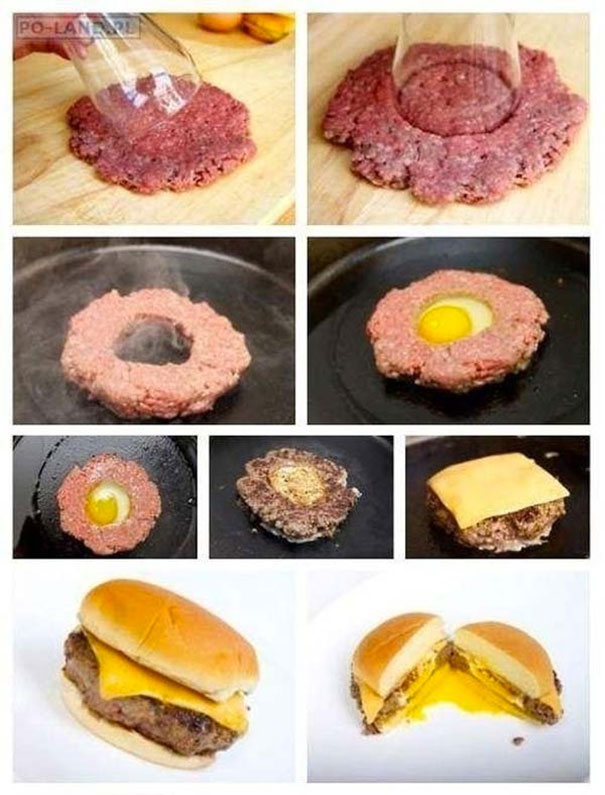 5. Drip all you want, popsicle, my hands are staying clean. 
6. The apple corer is now a potato wedge-maker.

7. Banana split just got melty.

8. Flower lemons. We fancy!

9. If it has a hole then cook an egg in it.

10. OMG YES. Cheesy bread in an already-baked loaf.

11. My morning struggles have come to an end.

12. Think you know how to peel oranges? Think again.

13. Suddenly, that bundt cake pan and electric knife just got that much more useful.

14. When I told those insects to stop flying into my drinks, they wouldn't listen. So it's come to this…

15. Chip clips for prolonged crispy potato goodness.
16. For those who suck at using chopsticks.

17. Do my eyes deceive me? Is that bacon… inside a pancake!?

18. BACON INSIDE A CINNAMON ROLL. BACON. INSIDE. A. CINNAMON. ROLL.

19. Game over, strawberry stems.

20. Mega loaded potato skins.

21. Sugar cookie cups!

22. A guide to perfectly boiled eggs…

23. …or try baking eggs at 325 degrees for 30 minutes. Baked eggs are less sulfurous (smelly) and their texture is creamier.

24. Hash browns made in a waffle maker.

25. It's time to upgrade your ice coffee game with some cookies 'n cream cubes.

26. Keep your cake moist by putting a slice of bread on it.
27. Make this $5 brick oven for AMAZING pizza!

28. Fancy a fancy chocolate bowl? All it takes is a balloon and some melted chocolate!

Sources: ViralNova and BuzzFeed
Well, there goes my diet… but we can be friends now, right?