Facebook, Tim Killam
Kids' artistic hands can do wonders when inspired by a special cause.
A Charitable Course
Pexels
The shop class at Westerly High School in Westerly, Rhode Island is one of the most well-respected courses on the campus because of the class's inspiring missions.
Helping The Community
Pexels
For over 20 years, teacher Dan McKena has found different ways for his students' construction projects to have a genuinely practical impact on society by building picnic tables, lifeguard stands, and other things in the community.
A Senior Project
Pexels
While planning for the senior project of his student, Mason Heald, Dan received an email from one of the locals.
A Special Request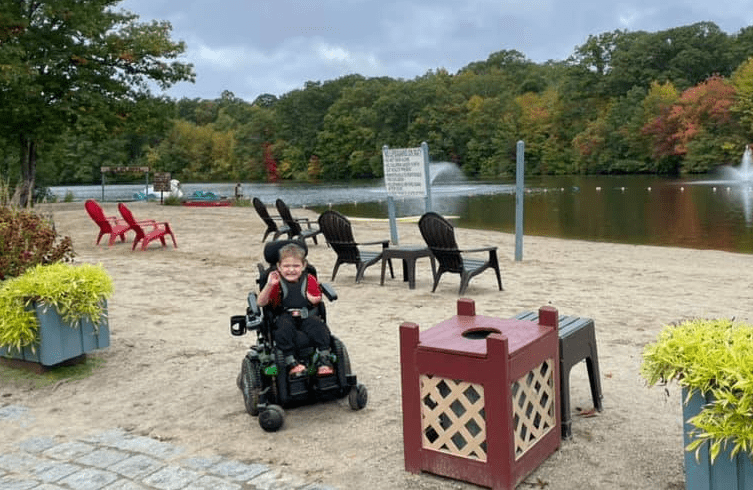 Facebook, Tim Killam
The email was from Tim Killam whose son, Ryder, was born with spina bifida and uses a wheelchair.
Weather Problem
Pexels
Because Westerly weather isn't always tolerable, during the cold days, Tim had to arrange a makeshift bus stop for his son to try to keep him from getting cold or wet.
Finding A Bus Stop
Pexels
When Ryder had started Kindergarten, Tim posted on Facebook, "Trying to find a way to keep Ryder out of the elements while waiting for the bus since the house is a distance from the road. Anyone with any leads please send a message! Thank you!"
A Temporary Shed
Facebook, Tim Killam
While there was still no luck finding a bus stop for Ryder, Tim put up a makeshift shelter made up of a large patio umbrella attached to a fencepost.
Dan And Mason Got The Assignment
Pexels
When Dan And Mason started working on Ryder's bus stop, people in the community started pitching in to help, including Home Depot who donated $300 worth of materials, and Ryan Perrin, a former Westerly High School student who now runs a landscaping business, who volunteered to deliver the bus stop to its new home.
Final Touch
Facebook, Tim Killam
Now, Ryder has an attractive shed with a heat lamp for the winter. To make his stay in there comfier, someone also donated a heated blanket to give him another layer of protection from the cold.