People Want Our Impressions Of Their "Am I the Jerk?" Stories
Unsplash
No matter how hard we try to continue performing good deeds for the people around us, there are still a number of people who choose to focus on the terrible things we've done. We can't be certain if they are only filled with hate and unhappiness or if they are simply having fun with the idea that if they only talk about our negative traits, other people will also hate us. Some of these folks come to us for advice. They want to know if their actions have earned them hatred. Here are their stories. Read on and let us know who you think the real jerk is. AITJ = Am I the jerk? NTJ = Not the jerk WIBTJ = Would I be the jerk? YTJ = You're the jerk
24. AITJ For Telling My Husband To Stay Away From Our Daughter During Her Physical Therapy?
Pexels
"I (42f) have 3 kids (18f, 16m, 14f) with my husband (45m). My husband has always been the disciplinarian and tends to yell and scream insults a lot and get mad quite easily, and our kids don't have the best relationship with him due to this.
Our youngest was in a car accident, experienced a spinal cord injury, and is currently going through physical therapy, and some surgeries. She is doing some practice at home and I don't want my husband there a lot when she's going through the therapy, or at the hospital picking her up and dropping her off for surgery, as he may instinctively get mad at her messing something up or him being there may make her feel worried that he's going to get mad.
She has also asked me to try and get him to not be there.
I confronted him and told him that because he wants to help them he may get mad easily and upset her when she needs to be as positive as possible, and knowing him he may worry about grades and let that blind him from worrying about her.
He said that he would be there and that as a father he had the right to get mad when his children make mistakes. I told him that she really needed support during this time and that knowing he tends to be very disciplinary I would not be letting him near her during this time.
He told me that there was nothing stopping him and I said that I would divorce him if he acted the same way. He told me I was being a psycho and I am starting to think that he is right and maybe I am overreacting in not letting him be there during this time, AITJ?"
Another User Comments:
"Yelling insults at a child isn't being a disciplinarian, it's being an awful jerk.
YWBTJ if you let him do that to your kid while she's in such a vulnerable and fragile state. There is no world in which you are a 'psycho', but it does sound like you get treated to the same trauma as your kids.
On a side note, how would you feel if your daughters married someone that yells at and insults them the way your husband does to them? Or if your son treats his future wife and kids that way? Because by enabling your husband's behavior you're teaching your kids that that's what a normal relationship looks like.
And to be clear you're enabling the behavior because you're dismissing it as him being the disciplinarian and have let it go on for 18+ years. NTJ, but it's time to make some serious changes in your family dynamics." a_tays
Another User Comments:
"NTJ. But please, take it from someone who knows, I had an emotionally and mentally awful father and a mother who always wanted the best for her kids and loved us more than anything but was also treated horribly and gaslit for 27 years into believing that staying with that man was the best thing for everyone.
Believe me, IT WASN'T! The fact that all of you know you have to tiptoe on eggshells around this man is a giant red flag screaming for you to take your kids and get out of that marriage! Especially when one of your children IS LITERALLY RECOVERING FROM A SPINAL INJURY and is more afraid of her father berating her for not recovering 'well enough' than she is about her actual recovery! That child is a victim of mistreatment!
Get her away from him! It sounds like you are a truly loving mother who wants to do what's best for your kids, but it also sounds like being married to this awful person for so long, has unfortunately blinded (or gaslit) you to the reality of his behavior.
He is hurting all of you, not just the kids. You all deserve to be safe from his emotional trauma." CrazyDogMom_93
Another User Comments:
"Everyone sucks here.
You're not a jerk in this specific situation but as usual with a case with a 'disciplinarian' parent who makes life miserable for their children, you are a jerk for allowing him to do this to them for all this time.
He has been awful to your children their entire lives and I can only imagine how quickly they will cut him out of their lives once they can legally and financially do so.
Your 14-year-old daughter has a spinal cord injury and your husband is going to yell at her for 'messing up'? You have failed to protect your children from an awful person, and yes, that makes you a jerk as well." Flower-of-Telperion
---
23. AITJ For Being Angry With My Friend After She Outed Me?
Pexels
"I (15 F) had a friend (16 F). She and I have been friends for 3 years. I am lesbian, I came out to her a few months ago. She said she 100% supports me. She also agreed to keep it a secret. I was happy at the time because I thought I could trust her.
Well, a couple of months later I found out that she outed me to some people. They were people that I know. Those people didn't know I was lesbian before. I was mad because I thought I could trust her but she stabbed me in the back.
I told her that what she did was not okay and that she owes me an apology. She told me she would not apologize and that I needed to calm down. I was angry at this point because she had broken my trust. So I told her to screw off.
She then started crying. Some of my friends are on her side. Some are on mine. Some say I shouldn't have handled it the way I did. AITJ?"
Another User Comments:
"NTJ. I'm queer myself. You come out on your terms and to people to whom you want to come out to.
Outing people is hurtful and rude. I've been outed to the entire family by my father who wanted to vent (he was super conservative at the time). The family told him to stop being a jerk and supported me instead. I got my father back (because he realized he was wrong and gay is okay) and my (otherwise super conservative) family got my back.
I am open about my sexuality and everyone knows but this was my own decision that I took well in my 20s. Whether you choose to be out and proud or come out only to selected friends is your decision and everyone should accept it without question.
Just because you trust someone with this information doesn't give them the right to pass it on and you had all the right in the world to feel hurt and call your friend out." Theawkwardmochi
Another User Comments:
"The only good thing here is that you now know who your real friends are.
Coming out is such a pivotal moment and the fact that they betrayed your trust and took that moment from you is really horrible and says a lot about them as a person (as well as the so-called friends siding with that person). You are allowed to be angry when people wrong you and you are allowed to move on from those people and build relationships with others who you can actually trust.
Absolutely NTJ." maaya_the_bee
Another User Comments:
"NTJ.
After being betrayed by someone who promised to keep you in confidence, she summarily dismissed your feelings and your dignity. The final straw was when she told you to calm down, which was so wrong of her to say. Telling her to screw off was in response to her horrible behavior. I'm so sorry this happened to you." SupergirlKrypton
---
22. AITJ For Wanting To Have Fun With My Friends On My Birthday?
Pexels
"So my birthday is this Sunday, I will be turning 22. I am a person that usually puts everyone's feelings before mine. For example, I like seafood and most of my friends don't so I don't often go to seafood restaurants or I like strawberry cake but because apparently, most people don't like that flavor I just get something that others might like.
This has led to a vast number of people like my therapist, many friends, my family who lives abroad, and a fortune cookie telling me that I should put myself first.
After that cookie, I decided to hear all the other people and decided that I wanted to enjoy this year by finally after 4 years having a celebration with friends and me getting to eat what I've been craving for like 2 months.
So my celebration is just a lunch out of town with both of my friend groups, it doesn't even have cake and I seriously don't expect any gifts cause I know all of them but I am just happy that I will be able to enjoy it with my friends.
Although they are the only friends living in this country that I have I haven't been able to see them recently.
My father told me yesterday that I wouldn't be able to celebrate my birthday on Sunday (the date of my actual birthday) because there won't be any water or electricity for some sort of reason.
I tell him that it won't be a problem since I already had plans with my friends for lunch that day. Now to make it brief my parents have been very awful and manipulative towards me my entire life, so I can't really feel comfortable any time they are close.
My father got angry at me and basically called me entitled and ungrateful after I suggested to him that since his plans for my birthday are just food delivery to the house to make it a dinner and have my aunt and grandma come since they are the only other people they would invite.
My mom also asked me about my birthday and she also got angry at me, and she has been giving me the silent treatment for like 2 days now.
I can't have them at my lunch cause my mother is classist and would be extremely disrespectful towards most of my friends and also I am an adult and can make my own choices.
But at this point I don't know if I am the problem, I swear I wasn't disrespectful when I told them and this type of reaction is why I always feel so much anxiety, sadness, and depression. But is it my fault, like am I really being entitled or mean for telling them that I want to have lunch with my friends and suggesting to them that we just have dinner later that day? I am really confused, am I really a jerk for suggesting dinner instead so that I can have some fun with my friends for my birthday?"
Another User Comments:
"NTJ – you said it there, your parents have been manipulative.
They're doing it again, you're allowed to celebrate your birthday whenever you want, or not at all. You're an adult and unless they've given you the money you're spending they're not even allowed to suggest how you should use it (aka what you buy, driving to celebrate somewhere, etc)." Odd-Metal-3966
Another User Comments:
"NTJ. Your birthday, your choice what you do.
Sounds like these people are toxic and not worth keeping around the other 364 days of the year either. Just saying." BDizzMcNizz
---
21. AITJ For Not Inviting Anyone To My Wedding?
Pexels
"My wife-to-be has a very drama-filled, complex family. I won't get into the full details as that could be a novel of its own, but suffice to say that there are three different groupings within her family, and most of the time (including now) one will refuse anything that will put them in the same place as the others, and stir up drama while they're at it.
They did this in regard to our son's first birthday recently and it made everything far more stressful than it needed to be.
We've been together for over 5 years and engaged for all but the first few months of that. We've lived together for over 3 years and have a one-year-old.
We've considered each other husband and wife for quite some time, both generally view the government-involved aspect of marriage as unimportant to what our relationship is, and mainly decided to finally do it because of our family's constant comments and the potential tax breaks.
So we decided to have as small of a ceremony as possible, just the two of us, an officiant, and a friend who's a photographer to take pictures, as we started planning too late and weren't able to do a courthouse wedding as intended.
You may notice that this doesn't include any of my family either. We decided that you can't exclude anyone if you don't include anyone, and that included my side of the family. If they were there, it would inevitably start drama with all groups of her family because they all feel they're the most important part of her family and blah blah blah.
But now I'm getting married tomorrow and I talked to my mom a short time ago and she's really upset about it. She's happy for us and excited for our future and excited to spend a couple of days with her grandson, but she's definitely upset about not being there even if she won't let herself let it all out because she doesn't want to ruin our special day.
I've talked to my wife about it and she's agreed that I can let my parents come if they promise to keep it a secret, and it's up to me and she'll be okay either way, but that she was kind of looking forward to it just being us.
She also agrees with my assessment that we mainly decided on this plan because her family can't act right and that penalizing my parents for that doesn't feel right, especially with there being a good chance that this may be the only wedding either of their children ever have.
I think I've made up my mind on what I'm going to do, and will likely have followed through on it before I come back and see this, but I want to know, AITJ if I keep my parents from their only son's wedding, or AITJ if I let them come, which my wife would be okay with but slightly disappointed that it isn't just us?"
Another User Comments:
"NTJ for wanting a stress-free wedding, but I notice you mentioned a photographer…
so there will be pictures taken, and potential oopsies as you are proud to display them, and oh yeah, your mom and dad were in some of them… you are going to have drama whether you like it or not, so when you decide which way you are going, understand the consequences and decide if it will be worth it, then do it and don't look back." Not_really1010
Another User Comments:
"Everyone sucks here – you're only getting married because your families pressured you into it, and then you didn't even invite them.
That's weird. But to the actual question, the same answer. This won't be kept a secret and you'll have to deal with the massive blowout from her family. It's up to you and her if that's worth it." Eastern_Amphibian385
Another User Comments:
"NTJ. You should keep it as only you and your wife, then the day after (or the next free day you have), go out with your parents to a nice restaurant or something and celebrate the marriage. It isn't the same as attending the wedding, but it's still a nice way of spending time together and celebrating your love!" wormlover14
---
20. AITJ For Wanting To Have The Party On My Kid's Birthday?
Pexels
"My mom and I have always had a strained relationship. She is emotionally unstable and very unreliable. When my parents retired, they sold their house and started living the RV life and traveling. Yet every time there is a family event or birthday, she guilts everyone into postponing until they decide to come back into town or she gets mopey if you go ahead without them.
My 3rd child (her 5th grand-child) is turning 1 & she asked me to postpone any celebration until they come back which will be a few weeks later. They have control over when they go and leave places. They also plan to visit with my sister and other grandkids about 2 hours away first, during my child's birthday instead of coming right here.
She misses a lot with my kids but shows favoritism to my sister and her kids. I want to just throw the party on my kid's birthday. AITJ?"
Another User Comments:
"NTJ but you will be the jerk if you don't take control of your life and stand up for your children so they know they aren't coming in last place for love like I think you may have been brought up to believe for yourself.
Why are you trying so hard to accommodate people who don't actually make time for you? Make yourself and your children a priority so they can learn to build healthy relationships and boundaries as they grow. I mean, honestly, if I could tell that favoritism was a thing I wouldn't even bother with these people.
What are they going to do? Mope about? You don't have to listen to that, you know. You're an adult and have the ability to take control of your own life and do what's best for you and your kids." maaya_the_bee
Another User Comments:
"NTJ. Stop making plans around her schedule.
If she wants to be there, she will be there. If she wants another party later, she can throw it. It's not fair to you or your kids for you to choose to revolve around your mom. I get that you feel guilty, but the reality is that this is your decision and it makes you the jerk every time you choose your mom over your kids in this way." Eastern_Amphibian385
Another User Comments:
"NTJ.
You've informed her of the party, it's her choice if she attends or not. Sounds like you'll be better off if she doesn't come! Let her mope, she has only herself to blame. The party is for your child, not for her. Screw her convenience, and shut down any 'moping' communications. That's a her-problem, not a you-problem. Happy bday to your one-year-old!" BellaSquared
---
19. AITJ For Not Telling My Friend That Her Ex Is Seeing My Sister?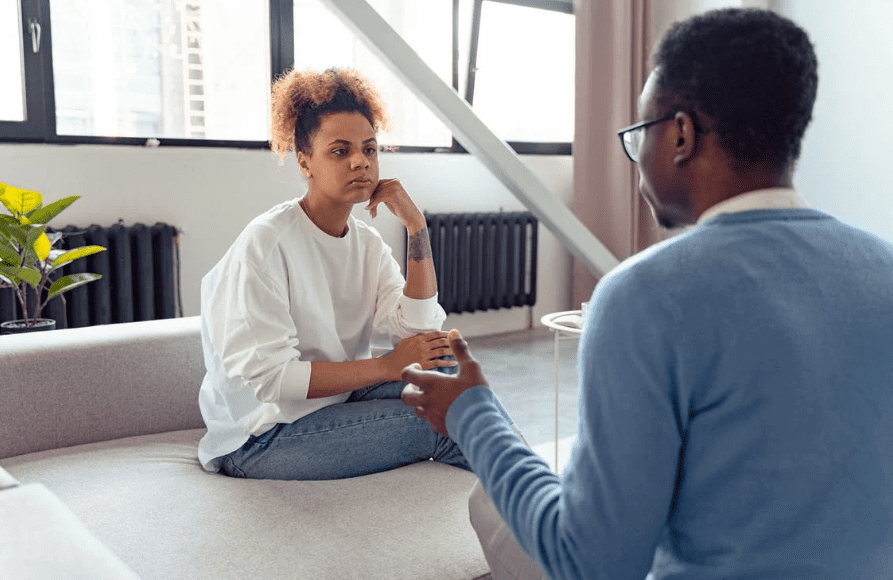 Pexels
"My (34f) husband (35m) and I met because I was friends with his uncle Joe (33m). Husband and uncle are very close in age and are more like brothers. My younger sister Lana (32) and Joe were friends in college. Joe and Lana have always been very good friends, but it has never been more than that, not even a kiss.
My sister married another one of Joe's friends a year after my husband and I got married. She and her then-husband had 3 boys pretty close together. Joe started going out with a friend of mine, Amy.
Amy was very nice but always had some mental issues, usually anxiety and depression.
Joe and Amy start off great and soon enough, Amy is pregnant. Amy and Joe continue to have problems for years. My husband and I still hang out with them sometimes, but things are tense. In an effort to save their relationship, Amy gets pregnant again.
This was against ALL of our advice. Things went south real quick. Amy and Joe proceed to break up fifteen times, then get back together over the next five years. A lot of these breakups were due to Amy's struggle with mental illness. We tried numerous times to get her inpatient and outpatient treatment.
I got her to her first counseling appointment, but I do not know if she continued these thereafter.
Then cue 2020… Joe and Amy are stuck at home together and I guess they realize that a lifetime is too long to be miserable. They decide to break up and this time they stay apart.
During this time, my sister Lana and her husband also go through a messy divorce. Joe and Lana didn't really keep in touch after Lana got married and Joe and Amy got together, but they reconnected through a dinner that my husband and I had around a year after Joe and Amy broke up…
Joe and Lana started going out and both are happier than they have ever been.
Joe is great with Lana's boys and Lana is great with Joe's girls. Everyone is happy… except Amy. Amy is suffering from depression and has fabricated this story that Joe and Lana have been having an affair for years and that is why Joe and Amy broke up.
She is even telling people that Lana's youngest son is Joe's. Joe is blonde with blue eyes and light hair, and so is Lana. Lana's husband is dark-haired with dark eyes and olive skin. The baby looks just like her husband.
Amy called me screeching when she found out and insisted that my husband and I set this up.
We had nothing to do with them starting to go out AT ALL! Amy is angry at me and said that I am a jerk and a terrible person for not telling her that Joe and Lana were seeing each other. Some of our mutual friends agree that I should have been a good friend and told Amy.
I might be the jerk because I did not inform my friend that her baby daddy was seeing my sister."
Another User Comments:
"Soft YTJ. It would have been Joe's duty to inform his ex about who he brings around their kids. He can't just bring around a new partner without talking with the children's mother about it.
But it seems he didn't. And you all knew about it and didn't tell her either. You are NTJ for not telling her about the relationship.
She has no right to know about private romantic stuff. But as soon as she is actively involved in the children's life not informing is a jerk move and you could have talked to Joe and your sis about that…" Remote-Equipment-340
Another User Comments:
"NTJ
I don't think you are the jerk.
I think after a divorce it is up to the two parties to tell each other what they want. So if he wanted to tell Amy he was seeing your sister I think that falls upon him. It's not really your job to, if you didn't not really your fault. Also, Amy is mentally unstable who knows how she would have reacted if you had told her? But you are not the jerk." emptyasaglass
---
18. AITJ For Telling Stories About My Mom During Therapy?
Pexels
"My mom (51F) passed in November 2021, and for the whole of 2021, I (16M) pretty much had no life, because it revolved around her.
My school attendance dropped massively, I couldn't do anything for myself, I rarely had time to go out by myself or with others because I had to care for her, and she refused to get medical help unless my grandma (who I now live with) called an emergency ambulance which means I had to be the one to care for her.
It messed up my sleep schedule (I wake up around 4:30-5:00 every day because I had to get up at 3 am most days to help her get up or go to the toilet) and my therapist has said I should get assessed for PTSD from what I've described to her.
I described how it felt awful at times – she yelled at me a lot, I know she was in pain but she got unnecessarily angry at me, she took all her pain and anger out on me and it screwed me up. My mom had some pretty bad anger issues her whole life, but it was 100% worse when she got cirrhosis.
There are a lot more details that I explained to my therapist, but that's all I'm going to go into detail about here. I was telling a friend (ex-friend? platonic widow?) of hers about the therapy sessions and she got upset with me, saying I shouldn't spread rumors about my dead mom, blah blah blah.
I don't see where I went wrong. it was actually traumatic for me. AITJ?"
Another User Comments:
"NTJ
The whole point of therapy is to talk through the experiences you had. Young carers often have school issues etc and there are often support mechanisms in place at school/college for people who have experienced what you have.
PTSD is a very real thing from events such as this as they are traumatic you are doing the right thing getting support to move on from this and get your life back on track." Mammoth-Peace-913
Another User Comments:
"NTJ. No rumors were spread; you were put in a horrendously difficult situation that I know most people wouldn't be able to handle (went through similar things when my granny had dementia).
You were traumatized, not only by the experience but mainly because it sounds like a lot of her care fell to you which is insane! Her end-of-life care should not have fallen to you and I'm so sorry that it did." PoisonIvyNumberFivey
Another User Comments:
"Those aren't rumors.
This is you opening up about the fact that your mother forced you into providing her end-of-life care when you were literally a child. Illness does not excuse mistreatment, and what you went through was mistreatment.
The therapist is literally not allowed to tell anyone else about what you tell them.
They can lose their license if the information you give them goes any further.
Your mother's friend doesn't want to admit that your mother was a bad person. That's understandable. But she doesn't get to tell you that you're doing something wrong when all you're doing is trying to get help for the mental issues that your mother caused.
NTJ." genus-corvidae
---
17. AITJ For Telling My Partner How She Should Spend Her Funds?
Pexels
"My significant other (33) moved in with me (M, 40) about 18 months ago. She moved here from another state after we'd been together for about six months, and I paid her moving expenses.
Since coming to my city, she has bounced around between a few low-paying/low total hour jobs and collected unemployment benefits for a lot of the year.
This means I have paid the vast majority of the household costs (I have a decently well-paying job), including some extras like trips, frequent dinners out, etc. I never expected a 50/50 split, but it's been more like 80/20 and I've expressed a few times in the last little while how I need something to be done about this so it's more balanced.
My SO recently got a full-time and better-paying job that will allow her to potentially contribute more and save some funds. She has a credit card balance of about $4500 she's been trying for some time to pay down – without much success. She tried to transfer her balance onto a new 0% balance transfer card but was declined.
I have fairly good credit so she asked if I'd take out a joint card that she could transfer her balance onto, with the idea it will be paid off in 9 months.
I was hesitant at first as I have concerns about her spending habits and I don't know how I feel about potentially being on the hook in case things go sideways.
(We're older and both divorced, so it's just about caution – not because I assume it will end). But in the end, I agreed with some conditions, including that she gives me a little more for our expenses each month, and that she takes care of a few things that she owes me for from the past few months.
She was fine with this.
She is probably getting a healthy tax refund this year because we included the moving expenses on her return, and she mentioned she might want to use that to pay down her debt from before. I suggested that maybe the money from that tax return should go towards something we can both use since I technically paid the moving expenses in the first place.
When I suggested this, she got super upset. She accused me of making her always feel guilty about the money imbalance and putting 'strings' on something I willingly agreed to pay for, and that I'm essentially asking her to pay back the moving costs. I argued that this is different – the refund is essentially found funds for something she didn't pay for, and I was only suggesting that the funds should be used by both of us rather than just her.
A whole fight ensued and now she wants me to tell her how much she owes me for the past year and a half of me 'carrying her,' (which I did say as we were arguing), which just seems ridiculous and also not something she could afford if I sat down and calculated the amount."
Another User Comments:
"What happened to wanting her to pay off the credit card? Do you actually need the money or do you resent 'carrying' her and this is how you passive aggressively display this? This strikes me as one of those hey I am the helpful guy let me pay for the move, etc., and then throw it back up to her later and always keep her off balance.
The fact that she is asking for a full list of what she owes means this isn't new. This just feels super petty, if you don't want to help her then set expectations up front, don't do it and then throw it in her face later.
YTJ." Responsible_Candle86
Another User Comments:
"YTJ, you aren't filing jointly so she should use HER refund as she sees fit. And, assuming you are in the US and this was a 2018 or later tax return (based on the move 18 months ago) those moving expenses were NOT deductible unless she was active military moving for military duty reasons… which does not sound like the situation here.
The Tax Cuts and Jobs Act passed in 2017 and took effect for the 2018 tax filing year did away with all non-military moving expense-based deductions, so maybe write a strongly worded letter to the previous president if you're trying to get reimbursed for that?" AlternativeAcademia
Another User Comments:
"Everyone sucks here.
YTJ for micromanaging her income rather than just being clear about a repayment schedule on loaned amounts or clear about how long you were okay footing an 80/20 split.
Demanding repayment for the move costs is a jerk move when that was never a thing you told her she'd have to repay you for.
Telling her to give you more money while also telling her to pay off debt is a stupid idea. Because to pay off her debt she has to pay more down on the debt. Giving you more money means that she has less money to pay down the card debt.
She sucks for thinking that you weren't going to expect repayment for things you kept asking for repayment on (the card debt specifically).
You got what you exactly what you asked for… You want the money back now you need to tell her the exact amount you expect her to pay you back. And then she's going to pay you back probs with that tax return. And don't ever expect her to accept financial help from you again or agree to give her financial help without a written agreement about repayment. End of story." JetItTogether
---
16. AITJ For Being Mad At My Partner When He Gave Up Our Seats?
Pexels
"I have been working in the theatre world for many years from performing, stage management, and even box office/selling tickets. We tell people that doors open at a certain time and to be there 15 mins before for many different reasons. From making sure everyone finds their seats to making sure there are enough seats.
This last reason is where it all started…
My university was doing an acting showcase and the tickets were first come first serve and the performance space had room for about 30 people and this was the last night to see it. The doors opened at 6:30.
To make sure we had tickets, My partner and I got there at 6:00 and as we walked up we got the last two tickets. We notice people still coming in and being put on a waiting list, in case there was room.
One of my partner's frat brothers was on the waiting list as well as an older man with two other adults (they had tickets) who was there to see his granddaughter.
My partner pulls me to the side and says, 'I think we should give up our seats.' I ask why and he explains, 'well I feel bad for frat bro and older man.' I sigh and say, 'we got here first and they are at the top of the waiting list.
More than likely they will get in.'
I had worked on things like this before and sometimes we hold a few seats for family members that don't have a comp. My partner and I keep talking about this until finally, I say, 'fine! What do you want to do.' He says to give our tickets away and so we did.
As we walked away we stopped and talk for a moment. I explained, 'I don't think it's fair we have to give up our tickets when we were here early and did what we were told.' My partner tried to understand but at the same time said it was still the right thing to do.
Am I the jerk for not wanting to give up our seats and being mad with him after?"
Another User Comments:
"YTJ. You asked him 'what do you want us to do?' and then agreed to do so. He didn't force you to give your ticket away.
You could've and should've shut the convo down when he suggested it.
Or told him, 'do what you want with your ticket but I'm staying'. But you agreed to give up your ticket, so get over it and work on developing a backbone." GhostParty21
Another User Comments:
"NTJ
It seems you and your partner are on 2 different spectrums. You are black and white rule-following (possibly due to your experience in these types of matters specifically) and your partner is a bleeding heart that felt for others over you and himself.
You care about the arts so this was an offense to you. I do not know how involved your partner is with the arts, but it sounds like he is more aimed at human interaction. Regardless, the frat bro who doesn't really patronize the arts and a random 'old guy' that you don't know were put above you in your partner's mind.
This raises issues (at least in me) on where the guy draws the line on putting others before you. If this is an isolated incident and he likes that frat bro and wanted to get 'bro' points, you just need to know where his line is.
I suggest talking to your partner about how this exchange made you feel so you can interpret whether or not this was a one-off for 'bro points.'" MedeaMoone
Another User Comments:
"So you are upset with the expected result of something you specifically agreed to? Yes. That makes YTJ.
He didn't make the choice. You made the choice together. Now, you are blaming him for YOUR decision. You could have said, 'No. I really want to go to this.' That would have been a mature answer. Being cool with letting others in would also have been a mature decision. You didn't. You agreed to one thing and then got mad about it. And, this doesn't sound like any big deal at all, certainly not worth this angst." BAT123456789
---
15. AITJ For Being Mad When I Didn't Get Into The Party?
Pexels
"I (24M) was going to go to my cousin's quinceañera (a big celebration apart of Hispanic culture celebrating a girl's womanhood).
Before this whole thing, my family and I have a rocky relationship. It all started when my aunt's husband started blaming my sister for his step-daughter's (the quinceañera girl) actions.
I had to find out about this when I was visiting my sisters and mom in Vegas since I didn't move with them. I also got told that my aunt was constantly spreading rumors about my mom saying stuff like she used to leave my sisters home alone when she went to go out and party (which is not true) and that my mom's partner physically harmed her (also not true).
When I found out about this I was livid because you are not about to go talk about my mom and sister/s like that and then act all innocent the next day. So me being a big brother I was saying stuff like I was gonna harm my aunt's husband up for making those accusations.
Turns out his step-daughter heard and told her mom and step-dad then her mom told us that my little sister (different sister) told them. I knew she wouldn't do that, especially because she didn't like her cousin (the step-daughter) because of things she had done to her.
A few years later it was her quinceañera and I wasn't gonna go but my little sister so desperately wanted to while the other one wanted to leave because of the past events. So I planned to go for a bit and then take my sister and our cousin who had slept over because they didn't want to be there.
I got there and nobody said anything about needing to bring the invitations and my sister (who wanted me to come) tried to vouch for me because I was even with my partner and a couple of friends. The family saw that I wasn't being let in and ignored me.
I was annoyed at that point and started texting my mom things like 'sad how you're with that two-faced family' stuff like that. So… AITJ?"
Another User Comments:
"I'm gonna go with YTJ because you were literally crashing her party with your friends. You don't care for her or her parents (for all the right reasons) & that's a celebration for her.
I wouldn't want bad vibes at my party either. If your sister wanted to leave she could've just come outside as you came for her. You had zero business going inside and sitting for a little bit. If your mom still wants to deal with her, then let her.
One day she'll grow tired of it. You just aren't down for all the nonsense." Golden1052
Another User Comments:
"Everyone sucks here, you blew up after already promising violence, coming uninvited, and bringing backup – friends. They're also bad for all the things you mention. Just distance from the jerks and hold a small secondary event for those who didn't go originally.
That wins you points with those that matter." Pr3dAcan3
Another User Comments:
"You can't threaten to hurt family and then expect them to let you come to the party. Honestly, what did you think would be the result? YTJ, especially for making a scene at a girl's special occasion like that." RedneckDebutante
---
14. WIBTJ If I Stopped Being Friends With Someone Who Doesn't Have Any?
Pexels
"I (20f) work with and became friends with a woman in her 30s. We began hanging out, drinking at her house, etc. A lot of our other coworkers don't like her, but I always give her the benefit of the doubt. We were a trio, but the third girl straight up got tired of her.
Let's call my coworker (female thirties) Mary. Mary overthinks, like a lot. Very insecure. She's obsessed over our third friend, we'll call her Emily, taking her meds.
At first, I thought it was out of care for Emily, but Mary would go on and on about Emily to me and Mary's husband.
Anyway, we worked opposite shifts at this point. She came in for the night shift while I, the previous shift, was talking to some other friends I had made. She got very moody and would not tell anyone what was wrong until she texted me about it later, claiming I was giving the others more attention.
Lately, Mary has been giving my friend, Amy, rides home from work. This day, I worked the night shift with Mary and Amy, and offered to take Amy home because I live way closer to her and it was very out of Mary's way. Amy asked me to tell Mary of this because Amy worked in another part of the building than us.
I told Mary and she had a meltdown that Amy didn't tell her herself. In the last hour of the shift, I was berated saying I just 'didn't understand' why it was a big deal.
I always play therapist to this friend. One night, when we got wasted, Mary insinuated something about a worry I would sleep with her husband.
He's like 15 years older than me and not my type at all. Mary and I had basically promised to stay friends at one point, but she's emotionally draining and a lot of people are telling me to just distance from her. Would I be the jerk for leaving a girl who already has no friends?"
Another User Comments:
"NTJ.
Mary sounds like someone who is anxious attached and crushes on her friends and drives them away with her obsessiveness. You sound like you care about her so I would clearly draw boundaries and tell her verbally specifically what you don't like about her behavior and why you feel it's hard to be around her.
She might not understand but at least she has the potential benefit of clear feedback from you on her behavior vs the slow fade or ghost from others." NationalParamedic607
Another User Comments:
"NTJ but this sounds like an exhausting friendship.
She is trying to control who you talk to, she insinuates you'll sleep with her husband and claims you don't understand. You should have told her the only thing you don't understand is why you're friends with her and walked away. The others left for a reason, OP. Follow them out the door." User
---
13. AITJ For Taking My Tip Back?
Pexels
"My partner and I ordered a pizza for dinner tonight. The total was $15.37. I had $20 out ready to pay and was gonna tell the delivery driver to keep the change.
The driver pulls up, pulls out the receipt, checks it, and says the total is $21.99.
I scramble for a second, assume I missed a delivery fee or something, then add a $5 bill to the money and give it to them, telling them to keep the change.
They say thanks and tuck the receipt and the cash into their pocket while walking away.
I called them back and asked for the receipt, still feeling like something was off. They searched for it for a second, then gave it back to me and started walking to their car.
I checked the total and it was the $15.37 the website had said.
I called them back again and told them the total was different. They squinted at the receipt and said 'What did I say it was?' I told them 21.99. They said they must have misread it because it was dark outside, and that they were new at this.
I told them no worries, it's okay.
As they went to walk away again, I asked for some of the cash back. They said 'Oh, did you want some of it back?' and I said, 'Yeah, just the $5 since that was the extra I added when I had the wrong price.'
They gave me the $5 and then left.
My partner is insisting that it was a jerk move to take back the $5. I told her I didn't think it was fair to double their ~30% tip because I was told the wrong total.
She says I 'took their tip away' but I keep telling her that they still got their original tip, just not an extra 5 dollars on top of it.
Am I a jerk for asking for the extra $5 back?"
Another User Comments:
"NTJ. $15.37 vs $21.99 there is no doubt they were deliberately trying to scam you. Those numbers are not even remotely similar. If instead of $15.37 he said it was $15.87, $16.37, even $25.37 I'd think… ok maybe he misread a number.
But $21.99. Just no. I'm sure they look at the receipt in their car before they get to the door or can use their phone flashlight to make sure they see the total correctly.
There's no way they risk not knowing the right amount because if they show up at the restaurant short on money they'll have to pay the difference.
I'm sure they're not willing to take that risk. I'd call the pizza place and inform them of what their delivery person is doing because it will cost them business in the end. If people order a pizza and it's $15. Ok. Same pizza $22? They'll just never order from that restaurant again thinking their pizzas are expensive.
Your partner's comment did not even make any sense at all. I'm guessing she's one of those people that doesn't understand how math actually works." Mirvb
Another User Comments:
"NTJ. The delivery driver was trying to rip you off. I don't believe, for one second, that he mistakenly read the docket.
Did you notice, he tucked YOUR receipt in his pocket? Every delivery driver I know, asks if you want the receipt. He didn't offer, because he didn't want you to see he was ripping you off.
I would actually have rang the store and reported the driver.
What he did was theft, fraud or something like that. I would have asked for my funds back, on the tip I gave him. Drivers don't deserve tips for trying to rip off a customer." KarenMaca
Another User Comments:
"I would have asked for the receipt before giving the driver more. I would have them immediately call the restaurant. The driver attempted to steal from you to pad his pockets. No telling how many other customers he did this to and got away with it. NTJ." nerdgirl71
---
12. AITJ For Not Wanting To Pay A Parking Ticket?
Pexels
"Freshman year of college I lived in a dorm and like most people did not have a car. My friends and I had made some friends on the football team in another dorm. Occasionally, we would borrow one of their cars to go to the grocery store, get dinner, etc.
We didn't do it very often. We usually borrowed cars of guys we were closer with. One day, we asked to borrow 'Sam's' car. Sam was the roommate of a closer friend of ours so naturally we saw him often and hung out with him as well.
Sam was kind of different than the other guys, kind of an outcast (this isn't really relevant just setting the scene).
We took his car to the grocery store that day and when we came back, the exact same parking spot was open! I parked and returned his keys.
The next morning, we heard of many freshmen getting parking tickets. Apparently, our college town had an 'alternate side parking' law that people from out of town/state were unaware of (everyone involved). This law basically means from November to March, every night, you have to park your car on the opposite side of the street to make way for snow plows if it were to snow (Minnesota for ya).
Sam ended up texting me that day asking for me to pay the parking ticket as I was the last one to drive and park his car. I responded right away saying I had parked it in the exact same spot meaning it would have been ticketed regardless of me driving it or not.
He continued to ask me for the money to pay for the ticket and I was getting frustrated as he would be paying for it no matter what. This kind of got blown out of proportion as I was more of a firecracker back then and was asking all of our mutual friends what they thought of the situation.
I was shocked when people said I should just pay for the ticket. I honestly can't remember how much it was, maybe $80, which is relatively pricey being a freshman athlete with no job (both of us).
I thought for sure he would at least ask me to just pay half, or just reimburse him the gas money, but he stayed strong asking for the whole ticket price.
Am I the jerk for not wanting/thinking I should be responsible for paying this ticket?"
Another User Comments:
"YTJ. Someone was nice enough to let you use their car, you should have known the parking rules – if you didn't, that's on you. Alternate side parking isn't uncommon in the Upper Midwest – I grew up in Wisconsin & dealt w/ the same laws.
If you had handled it better, he also may have responded better as well – he was the one doing you a favor in the first place by letting you borrow a car when you didn't have one." stephsb
Another User Comments:
"Hmm, I was all set to call you the jerk, but in this case maybe not.
Unless you got home very late so it was too late to reasonably move his car, then Sam was going to get the ticket anyway… but you were the last to drive his car… I'm going to say no jerks here, you both had a logical case, and you are both young people, who can't afford $80, the real jerk was local law enforcement, who didn't make this clear (and in fact, probably counted on 'catching' the new crop each year to pad their budget.)" Himkano
Another User Comments:
"YTJ.
Someone did you a favor and let you borrow their car. Then because of unforeseen circumstances, you became a burden to them because they got an $80 parking ticket. You can't speculate that still would have happened had you not borrowed the car. You should pay for the ticket, it's the right thing to do." rough-landing
---
11. AITJ For Not Wanting My Partner To Hang Out With His Childhood Friend?
Pexels
"My partner and I have been in the same friend group for years but we started going out almost a year ago. My partner's friend Max was my friend too, but he started treating me like trash ever since my partner and I started going out.
Some months ago he created a rumor, he said that I was doing witchcraft on my partner and that I had him completely manipulated. This rumor became bigger and bigger, and it ended up in my parents-in-law's ears. They now hate me because Max is like a son to them and told them that I was changing my partner too much, but we had a great relationship before; my partner and I fought a lot in those days too, and it really hurt our relationship.
The worst part is that Max never apologized to us, he denied everything even when we had proof.
My partner is really mad at him now but still talks to him as a friend even though he denies it. Last month he celebrated his birthday and Max showed up with a big gift and hugged him tight telling him how much he loves him.
To be honest, I don't want to be the kind of person who controls their partner's friends, but it really makes me sad because it feels like he didn't care at all. Am I really that wrong for wanting him to not hang out with someone who hurt me and our relationship so much?"
Another User Comments:
"Sounds like he misses his best friend and is blaming you, but that's life, and best friends go out with people.
Honestly, your partner and Max need to have the talk about how Max has to respect his girl but that doesn't mean that he means any less to your partner.
Kinda the jerk for wanting your partner to not see his best friend, which reinforces Max to be wary of your relationship.
If anything, if your partner can't balance both of your feelings and provide a solution then it might not be worth it long term." Top_Ladder6702
Another User Comments:
"NTJ, taking into consideration that you actually have proved he started rumors about you I think your partner should not want to hang out with someone who did that to his girl." xJannina
---
10. AITJ For Leaving "Embarrassing" Products In The Bathroom?
Pexels
"I (16F) share a bathroom with my older sister (17F). We have our own rooms but the bathroom is in between them and has two doors, so it's just us two that use them.
My sister had some friends over the other night who spent the night in her room, so they were using the bathroom throughout the night.
My sister had asked me to clean up my stuff in the bathroom before they got there. Neither of us is dirty and we clean the bathroom regularly, but we're teenagers so we usually have products, makeup, hair straighteners, etc all out and it gets pretty cluttered.
We try to stow all our stuff out of sight when the other has company.
Here's where I may be the jerk. Usually, when my sister is having friends over I stow all my stuff under the sink, but I had something in the morning that I needed to get ready for so I put the stuff I knew I was going to use in the morning on a shelf instead.
I use hemorrhoid cream under my eyes and I use a product usually used for the chest for my lips. Those products were in plain view and apparently, my sister's friends were teasing her about it.
It sounds like the teasing is all in good fun, but my sister is really sensitive.
She was too embarrassed to say she didn't like the teasing and now I guess it's become an inside joke for her friends to ask her how her chest is doing, or how the hemorrhoid situation is.
I feel bad, but I don't think I was wrong to have my stuff neatly on my shelf.
I don't think I should have been expected to foresee this happening."
Another User Comments:
"No jerks here. Teenage years are brutal and your sister was obviously embarrassed. You did not do this intentionally. Tell her you are sorry and that in future you will try and put these products out of view when you have guests." Various-Bridge-325
Another User Comments:
"NTJ
It's your bathroom and you can leave whatever you want out, it's nice of you to put stuff away as a courtesy, but ultimately you can leave whatever you want out.
Either your sister is too sensitive about some goodhearted teasing, or her friends are jerks, either way, that's not on you." Cheshire2933
Another User Comments:
"No jerks here
Of course, it's embarrassing. You are a teenager, the list of non-embarrassing things is short. But it seems that this was an honest 'mistake' from your side as you usually stow them away.
If you were 3 or 4 years older, I would say get over it but teenage years are a nightmare. You both didn't do anything wrong. Her feeling uncomfortable is age-related and it's still your bathroom as well.
No jerks here. Give her a hug and say to her you love her.
Maybe offer her if the next time she feels embarrassed about it to stow those 2 articles under the sink if you didn't do it (for whatever reason)." MasterpieceOk4688
Another User Comments:
"NTJ. I think your sister isn't either. I think the friends bear some blame for her. If they can clearly see your sister doesn't like the joke and it affects her, they should stop. It's not funny when someone's emotions are involved and not just slightly embarrassed." Still-me-
---
9. AITJ For Disturbing My Roommate's Sleep?
Pexels
"I have a cat and my roommate (RM) has a cat and a dog, and have been living together for a significant amount of time in a small apartment. Due to RM's hectic work schedule, they haven't been able to create a consistent sleep schedule, so any slight disturbance awakes them.
Typically, I have resorted to almost perpetually residing within my room, only really leaving when I go out, make food, or when they are not there in an attempt to minimize disturbing them. In saying that, this hasn't worked, since our pets don't share RM's sleep schedule and typically move around whenever anyone's awake.
In other words, whenever I go to the gym, usually for an hour, they walk around the apartment waiting for me to return and disturbing RM's sleep.
To prevent this issue, I have suggested closing their door when they want to sleep and kicking their animals out into the living room or even my room, but they usually refuse.
In addition, whenever I'm making food for myself, I suggest playing white noise, turning on a fan, or again closing their door, but they've tried nothing. They haven't given a reason for the white noise or the fan, but in response to closing the door, they said, 'I can hear you walking through the door'.
Subsequently, I started wearing socks when walking around our apartment, trying to silence my footsteps, but it was not enough apparently.
At this point, I have given up. Whenever RM tries to bring up the topic now, I respond with, 'I have done everything except never leaving my room again, and I don't complain when you watch the TV on Max volume while I'm trying to sleep, so I don't care anymore'.
I know passive-aggressive, but I'm just tired at this point, so AITJ?"
Another User Comments:
"NTJ, so they expect you to just sit in your bedroom whenever they're trying to sleep? They sound super entitled. I live in a one-bedroom apartment but still hear my neighbors, cars on the street, etc.
It's ridiculous and quite frankly unrealistic to expect there to be zero noise when trying to sleep, maybe they need to move to the middle of nowhere otherwise they're destined to always be disappointed by the level of noise." Sea-Ad3724
Another User Comments:
"NTJ – You are right, you did anything you could, in my opinion even more than you should.
Wildly varying sleep schedules can be hard, but that shouldn't prevent you from leading a normal life. It's on your roommate to try and find a suitable solution after you tried everything you can." RedHurz
Another User Comments:
"Your roommate is the jerk. You sound pretty great. Might be time to find a different roommate, one who is as reasonable and thoughtful as you. And I don't think standing up to them is passive-aggressive. I think you're just tired of being controlled by them and their pets." DragonFireLettuce
---
8. AITJ For Getting Mad At My Mom For Prioritizing Herself Over Me?
Pexels
"I moved to another city for college and my mom and stepdad visited me for a weekend last week. I was happy to see them since it had been a month since we'd seen each other, but I immediately wanted them to leave after the way they treated me.
When I lived with them, I constantly wanted to run away, because they are mostly selfish and don't care at all about what I think because I'm young so they don't believe I can be right. Last week, mom and stepdad visited and stayed at my apartment for three days; they wanted to take a walk and I was feeling down so I didn't want to go with them.
The thing is, when I told my partner I was sad, he invited me to hang out and offered to buy me ice cream. So I got up, took a shower, and was completely ready to go out and then I noticed I was locked in my apartment.
I only have one key and they did not only take it with them (which, if it was only that, would be fine because I could still go out if I wanted to) but also locked the door up. I was annoyed, I live on the 13th floor and if an emergency occurred I would not be able to leave.
I called them 12 times each and they didn't pick up the phone ONCE. My stepdad texted me back 3 hours later saying 'yeah, I know you're locked, we'll be there in some hours' and stopped replying when I asked them to come to open up (since they were close to the apartment).
Turns out they were in a Casino, and I was annoyed because my mother is an addict and she had stopped playing until she met this man. She cared more about the casino than her own daughter. And when they came back, they didn't even apologize, they left without apologizing and I'm still annoyed at them for being so selfish.
But I also feel guilty because I feel like I'm not letting my mom enjoy something she likes.
Am I the jerk for feeling angry at her after she told me so happily how much she enjoyed the casino?"
Another User Comments:
"NTJ.
I am beyond livid with your parents right now! Who does that?
OK, so,
Don't let them stay with you again.
Tell them they can get a hotel!
Make copies of your front door key. Put one somewhere safe in your bedroom where it will be easy to access for you. Put one inside your wallet.
As an aside, I'd change the locks on your door; because if your mom and step-dad 'LOCKED YOU IN', what's to say he didn't make a copy of your key so he can come back whenever he wants to 'check on you'? Or to steal from you? I am sorry, but that was an egregious 'BETRAYAL' of you, your trust, and, well, everything a parent is supposed to represent.
Grey rock, low contact, or no contact with your mom and step-dad. The fact that you said you constantly wanted to run away when you were living at home speaks volumes! If they are paying for your college, quietly do your best to pass your classes with flying colors then graduate, and do not ever look back as you leave them behind in the dust!
This is from my wife: You are better.
You are worthy. You are 'LOVED'! Baby Girl, you are so very much 'loved' and 'needed' in this world. You do not deserve a mom who would lock her own daughter up and then ignore her for hours in favor of gambling! And you quit that right now, with the 'I also feel guilty because I feel like I'm not letting my mom enjoy something she likes' thing!
She did something toxic and HURTFUL to you in order to go 'enjoy' herself; that is the hallmark of a supremely selfish, self-absorbed, self-entitled jerk that doesn't care about anyone but themselves! Baby Girl, I want to hug you so much right now.
I want to wrap you in my shawl, sit you down on my couch, bring you a hot cup of honey-sweetened tea and some pinwheel sandwiches, then sit next to you and just hold you so you know how MUCH YOU ARE LOVED. (You'd probably have my daughter on the other side of you, offering to go create some mayhem targeted at your mom and step-dad.
She saw what her foster sisters went through and became the classic, protective big sister. She'd adopt you. She has a pack of male cousins who, once she said 'She's one of mine' would immediately adopt you, too, and proceed to spoil you rotten and be protective of you.
Then their dads and moms would be like 'we must assimilate her into the family and spoil her with our love!' So, your 'tribe' is out there, waiting for you, to become your 'family', closer than blood.)
Now, listen to me; family is NOT about blood or biology! Family is about the deep bonds you make with people in life as you journey on your path.
I think it is safe to say that there are a bunch of internet strangers, ourselves included, who would be humbly honored if you were our daughter! We'd walk through the fires of the underworld for you and show you that not all parents are like your mom and step-dad.
We make mistakes and mess up; we do our best to take responsibility for our mistakes and messes. We do our best to take care of our responsibilities. And our hearts are big enough that we would love one more heart daughter or heart son to fret and worry about, to cheer on, to hug, love, and tell them 'You got this.
We are behind you 100%. You're going to soar so high once you grow into your wings! Gosh, we're so dang proud of you!' Now, if people, complete strangers, who have never met you, are telling you that we would want you, that we would love you to pieces and just be proud as peaches to have you in our family(ies), then you bet your sweet bippies you ARE NOT the jerk and never were! (Your mom and step-dad are massive jerks, that's for sure!)
It should also tell you that you ARE ENOUGH.
YOU ARE LOVED. YOU ARE WANTED. YOU ARE NEEDED, not as some sort of status symbol or whatever, but YOU ARE NEEDED BECAUSE THE THOUGHT OF NOT HAVING YOU IN THIS WORLD 'HURTS' OUR HEARTS AND MAKES US TEAR UP!
Focus on school. Focus on your partner.
If he is a good man, he will be there for you and provide you with an example of how to walk a healthy path filled with love, light, and laughter.
But, your step-dad is NOT a good man! Your mom is NOT a good mom or even a good person right now.
Surround yourself with people who will give you room to grow, change and mature into the young woman you are meant to be! Get to that point where you love being you and yeet anyone on out who tries to pull that sort of crap on you, ever again.
No more second chances; enact a zero-tolerance policy and do not think for one moment that people like that are worth even an ounce of Grace from you!
Take a deep breath, Love. Then another. I promise you, it will be alright. But do not ever take that crap from your mom and step-dad, EVER AGAIN!
All our love, all of our hugs." Wise-Excuse1015
Another User Comments:
"NTJ, force them to give you back YOUR KEY or you can report them for theft of stolen property.
Tell them they are not welcome back in YOUR HOUSE that you pay for with your own money not them, and until they can actually be decent people and your mom can treat and prioritize her own daughter over an addiction. Tell them you don't want a relationship with them until they can prioritize you over gambling.
Stand your ground." Br0kenTh0rnAP
Another User Comments:
"NTJ and absolutely do not invite them again. I mean, you love them but addiction is addiction. If you can, make sure you have your own finances. They have shown that they don't care about your well-being already. Don't let them bankrupt you as well." MonkeyMagic1968
---
7. AITJ For Not Wanting To Help My Mom With The Bills?
Pexels
"My mother has a severe drinking issue that started 3-4 years ago after she divorced my ex-stepfather. He was a cold, cruel man who was emotionally awful to both of us. My bio-father died when I was 8 in a sad reckless driving accident (he swerved off the road and hit a tree), so as you can imagine I tried every which way to help her become sober.
Nothing I did worked, and her drinking issues became worse over the years. Several months after the divorce, she started looking into seeing people again. I respectfully asked if I could be told in advance if she is planning on having company over so I can stay with my brother (as I was uncomfortable with hanging around her love interests, and needed time to heal) and she did not do it.
I constantly found her with flings, each being a new person every other week. So, I did end up growing more and more distant.
She found a guy she really liked several months ago, when I was 18, and after 2 weeks of going out he moved into the house.
He is also a heavy drinker, but he is somehow worse than my mother. He cannot get a job, and cannot drive, because he is intoxicated 24/7. No, I am not exaggerating. They are in love, but also enable each other. I'm happy for her to find love, but I am also saddened that she does not want to be sober.
Nonetheless, it makes me incredibly uncomfortable and I try to just avoid them whenever they are both wasted (which is almost every night). I've had to rely on my brother to help me with being an adult, this includes driving lessons and job-related stuff.
So, to the issue.
I've recently landed a job that pays $13/hr. It's not much, but it is something to get me started with my independence. My mother, however, requested that I'd give her a bit of my paycheck for bills.
I straight up refused and told her that if she needs my money for bills, her partner needs to get a job.
I told her that I will not be providing for a 37 y/o man who is too wasted to even drive himself to the store, and while he can freeload off of her, he will not be freeloading off of me.
AITJ?"
Another User Comments:
"No jerks here: though as clarification I wish to only extend this to the rent situation.
Your mother definitely has problems, I have several family members with addiction problems as well though not as bad. She should get help and I don't think her new guy is going to help.
That being said the moment you turned 18, she had no actual requirement to keep you in the house.
I know when I turned 18 I started paying rent as well. Given the situation, you may want to consider getting out of there as soon as you can because this situation is definitely a powder keg.
Yeah, you can feel a bit annoyed, but in the end, it's still rent.
I would advise making a month-to-month contract with her so that she can't just kick you out and she can't just change your rent. You want to make sure that you can put at least something aside each paycheck for getting a new place. Snapping at your mother is not necessarily the best way to vent your anger, but it's understandable.
Again, however, her having you pay rent is not really a problem. It happens a lot more often than you probably think." AshenPheonix
Another User Comments:
"YTJ, if you don't contribute to the household while living there. It's her house, if she chooses to let her partner live there for free that's her prerogative.
You definitely don't have to stick around though, I would ask friends if they wanted to go in on a rental together. But yes, YWBTJ if you didn't pay anything for living there at 18." MissionRevolution306
Another User Comments:
"NTJ, but leaning towards 'no jerks here' because you are 18, you're working, and the expectation that you might chip in for your living situation isn't, on its own, an outrageous expectation.
I'm sorry you are going through this. I was in a similar situation at your age (both parents were off the rails) and it was very scary.
Rather than being concerned about this particular situation, you should be considering your options as far as how to get out of this living arrangement, though I'm certain you are planning that already, given the incredible maturity and poise you demonstrate in your post. Best of luck." Gene-Jacket-Jackson
---
6. WIBTJ If I Tell My Parents To Just Get Divorced?
Pexels
"My (16F) parents (63F and 60M) are constantly fighting. They rarely have a good day together and their relationship affects me and my siblings in a bad way (ie: listening to their arguing causes me and my siblings stress and often they lash out at us when they are mad at each other.) I think that they believe they love each other, but honestly, I don't think they do.
I think another problem is that they both need therapy for the things that they have been through, but are really old-fashioned and don't really believe in taking care of mental health, and this affects their relationship with each other. (this is also something that affects me greatly because I don't get access to the help I need.)
I think I might be the jerk because their relationship is not really my business, and they have been married for a really long time, (over 30 years) and it might be rude if I suggested divorce, but I also know that it is affecting me which might make it my business, so WIBTJ?"
Another User Comments:
"NTJ.
You have every right to express to the people that raise you/take care of you that their behavior is affecting you negatively.
But I would like to caution you: as someone (26F) who also grew up in a household where their parents always fought, they will most likely not listen to you.
And my parents even tried therapy and were fired from that therapist because they were both too stubborn to reach any understanding.
If they don't see anything wrong with how they function, they may accuse you of exactly what you're worried about – sticking your nose in their supposed business.
But don't think that you're doing something wrong. Maybe I'm wrong and you pointing it out could be their 'come to Jesus' moment. But please know that it may not work, and that isn't your fault." dayna2x
Another User Comments:
"NTJ and it completely sucks to grow up in a house where your parents fight and probably shouldn't be together.
But in reality, as said before they know their options. For whatever reason, divorce isn't what they are interested in right now. Bringing it up with them isn't likely to achieve anything other than discomfort for everyone. The divorce of your parents would be a solution to your situation but it's not the only one.
If you do want to talk to your parents focus on how their fighting is making you feel sad/unsafe/scared whatever the correct description is for you.
Talk about the behavior, not the people. So 'your arguing makes me feel…' rather than 'I hate you and your fighting'.
It will help have a more constructive conversation but may not in the long run change anything. In the meantime do what you can to look after yourself. You may not change it but you may be able to avoid it. Is there a safe place in the house you could go when they fight?
Wear headphones and find distractions.
Is there another family member you can stay with? If the environment is really toxic then you may want to look at an escape plan. Moving out to live with another family member. Or at the least start putting a plan together to move out when you turn 18.
Get a part-time job if possible and start saving some money. Find someone you can talk to, a friend, a teacher, a friend's parent. No matter how much you want to you can't force others to change their behavior, even if they want to change. So be kind to yourself, and look out for yourself. And build a supportive team around you.
Good luck from someone who's lived that experience. Things get better." SpunTitanium
---
5. AITJ For Not Responding To My Friend's Messages?
Pexels
"I've been friends with this person for over two years and we're very close. We bonded at the start of 2020 and talked for hours on social media. During that time, we would send each other voice recordings of stories or just chat in general. We had some really good times and laughs.
We would tell stories that would take up 30 recordings sometimes. After I listened to all my friend's recordings, I would take the time to respond to what they said. Even if I couldn't respond to each recording, I would send a reaction to at least show I heard what they said.
And they would do the same.
About a year ago, something changed. I noticed that when I would send recordings, I never get a response or anything from them. I know that times have changed and that we're getting back to work, so we're not as free as we used to, but it feels like they just don't listen to what I have to say sometimes.
I wouldn't be so upset if they didn't respond because they were busy, but sometimes they have the time to send me videos or send me a bunch of recordings and not even acknowledge that I sent them something. They just skip over it.
This isn't an everyday thing and it doesn't happen every time, but when it does, it bothers me.
I take the time to listen to every recording my friend sends me and I show in some way that I heard them by either reacting or responding, but I don't know if I want to do that anymore. I haven't really been replying to their messages lately.
I feel really bad for doing that because I hate ignoring my friends, but I feel like this isn't fair.
Also, sometimes if it's been a long period of time that I don't respond, they'll say to me 'have you heard my recordings' or 'I don't know if you heard my recordings I said (blank)…' and sometimes it comes off as pushy.
There'll be days where I'll be doing something and I'll get a message and they'll get mad that I have seen the recordings but I haven't responded yet and push me to listen as if my life isn't important.
Again, I know this whole thing is very silly to fret about, but I have been keeping this to myself for a while and it keeps bothering me.
I'm too afraid to bring it up to my friend because I don't want to hurt their feelings and I just don't like confrontation. AITJ for not responding to my friend's recordings? What should I do?"
Another User Comments:
"No jerks here, neither of you are being a jerk, you've both grown apart and are adjusting to that.
Sometimes that means the friendship and time you spend changes. It sounds like maybe you have built this up a lot in your head and are making assumptions, which does suck but technically you're just withdrawing a bit to meet their energy and I don't think that is so bad tbh.
Neither do I think they are acting maliciously or mean to you. It is hard to sustain what you describe for a long period of time, I could see a year being a cool down point for constant communication for pretty much any friendship." stiff_butthole
Another User Comments:
"Sadly, and I hate to say this, but YTJ.
Sad, because I'm the same. You expect the same energy returned that you give out, and people that aren't you just aren't capable of that. Expecting them to do the same as us is not good, and we need to take a step back, waiting for them to initiate.
Sometimes this will encourage people, most often they just drift away because they've found something/someone else to entertain them. I literally can't stand that if I invest a ton of time and energy into someone that they don't or can't return the favor." Pr3dAcan3
Another User Comments:
"NTJ.
Clearly, they're in some situations where they only have the capacity to care for themselves right now. I don't know if it's that they're struggling or that they're just spoiled from being so cared for and loved by your warm friendship that they haven't put much thought into the effort they need to give in return.
they may just need a while to figure out whatever's going on with them, otherwise, maybe they've decided you aren't their priority anymore. It feels like from what I read that they use you to lean on for emotional support but then don't care to listen and support you in return in any way.
If you have patience you can try waiting this out and see if they recover or maybe ask if something deeper is going on with them and maybe they just haven't felt comfortable sharing. Sorry you're in this tough situation." midnight_prophet_
Another User Comments:
"Everyone sucks here – it sounds like you're both mad at each other for the exact same reason, your friend because you're not responding right away and you because your friend isn't responding right away.
In any case, we shouldn't be beholden to our phones all the time, so just make it a point to not leave each other on read for too long, or it may just be time to move on from this friendship now that we're all doing more things in real life." AvgHeight510
---
4. WIBTJ If I Don't Go To The Sporting Event?
Pexels
"I (19F) am having my birthday coming up this weekend and I'm really excited. I decided I wanted it to be a self-care type of weekend where I just relax and chill.
On to the issue: my cousin is having a sporting event on the day of my birthday, but my cousin and I had a nasty falling out a year ago, and while I do not hate that person, I'm just not interested in spending my birthday with them.
I actually don't really talk to my cousins anymore except for one of them. I think I've outgrown them in a sort of way, and while I do have a love for them, I just want to spend my birthday alone. My grandma asked if I was coming to the event, and I said I wasn't sure but she wants me to go.
I already know my family will be upset with me for not attending the event, but I really just don't want to. So WIBTJ for not going to an outing and instead taking the day for myself? And how could I break it to them that I don't wanna go without upsetting anyone if possible?"
Another User Comments:
"NTJ.
Your time is your own. You have no obligation to attend an event if you don't want to. Further, you do NOT owe anyone an explanation of why you will not attend. Simply smile sweetly and say, 'sorry but it's just impossible for me'. Then shut up.
Do not fall into the trap of talking more to explain yourself. It is natural for people to do but it only leads to trouble. No explanation will be 'good enough' and it only opens the door to more pleading and guilt-tripping.
If they persist, smile again and say 'it just won't work for me, sorry'.
If they STILL persist, smile yet again and say 'Do you really want me to discuss my private affairs with you?' in an incredulous voice. But very few people persist to that level." Funny_Jellyfish5632
Another User Comments:
"YTJ. Grow up and act like the adult you like to believe you are.
Make an appearance and be nice to your aunts, uncles & cousins. Be the better person. Nothing says you can't have other things planned so you can't stick around." Revolutionary_Ad5798
Another User Comments:
"NTJ. Hard NTJ.
Dude, you're 19. It's not up to your family to decide what you're allowed to do and not to do now.
If your family doesn't wanna give you a good birthday, go and do it yourself! If they're upset with you, that's their problem, not yours, right? If you wanted to let them down easy, you should just say 'hey, I'm not feeling up to it today' or something simple. There's no use in overcomplicating it." ytGemini
---
3. AITJ For Telling My Mom Someone Cooks Better Than Her?
Pexels
"My mother is generally a great cook but there are some things that she can't make as well, which is fine really. We had this really good dish at my uncle's place when I used to live there for my studies and my parents would visit me from time to time.
We all loved the dish and thought it was rather simple to make and delicious (my uncle and I had a cook who would make the food for us since we weren't as good and regular when it came to cooking).
Fast forward a few years we manage to grab the ingredients for the dish in our city and my mother made a basic dish that was nothing like the one that the cook would make and that we loved.
She asked me to taste the dish and I said it was okay and I believe she understood anyways that I didn't think that it was great and when she brought it up I admitted that while it's good our cook used to make it better and I'm not sure what ingredient is missing because it tastes just fine.
She accepted that explanation.
She decided to make that dish again today, and my father this time decides to suggest mom make it with a bit more spices so that he can mix it up with his rice like how the cook used to make it (my mom's dish was very basic she basically just fried the ingredients) and my mom isn't taking this well.
I think this was just a piece of advice from dad and although they don't really have the best marriage and my mom tends to get angry frequently, I am really tired of walking on eggshells around her and never really feeling like I can tell her honestly if something she makes is great or not because I am not really sure how she will take it.
I told her that this is just an opinion from dad and this needn't be taken out of context. And my mother is currently complaining loudly about how ungrateful we are. I realize that this is more about my mom's general issues with my dad (and maybe me not sure).
My dad isn't a Saint but I feel that he wasn't wrong in this instance. As for me, I believe I sort of brought this on myself because I realized earlier as a kid that taking my mom's side in arguments ensured that I had an easier time as a child because I would have to spend more time with her than a dad who works late at night.
Lately, I try not to take sides and point out to both my mom and dad if they are wrong but I guess my mom just feels like I am suddenly starting to take dad's side and hence I'm ungrateful too. AITJ for telling her that this was just an opinion from dad? I'm also open to suggestions for gently expressing yourself to parents without hurting their feelings."
Another User Comments:
"NTJ
I'm a parent and I put in silly amounts of what should be my free time into planning and cooking meals.
It can hurt when they brush it off or don't like it, especially when no one else is making sure there is cooked food on the table… that being said, it sounds like there are other issues going on here and you shouldn't feel like you're walking on eggshells.
I would rather my kids tell me they didn't like something so I don't continue to make it." Preference-Prudent
Another User Comments:
"NTJ: Sounds like there are some underlying issues. Not as good as a paid chef is hardly an insult and if you can't take criticism, you have issues. If you're spending this much time on eggshells, as you put it, you might need to get her and/or yourself into therapy to find the underlying cause." AshenPheonix
---
2. WIBTJ For Not Attending My Sister's Bachelorette Party?
Pexels
"My sister is getting married this summer, in Italy.
My first reaction was that of course, I will attend, she's my sister. But the bachelorette turned into a weekend getaway abroad and it falls on the weekend of my 30th birthday…
My sister and I could not be any more different.
We are literally opposites. I'm quiet, reserved, a homebody, and I have 'nerdy friends' (her words). She, on the other hand, works in event management, goes out to party a lot, and cares enormously about appearances and what people think of her. This is probably why she surrounds herself with 'cool girls' who really are just mean girls and often use her to get free tickets to whatever event she is planning.
I've heard countless stories of these girls treating my sister like trash, but she always forgives them. Long story short, I dislike most of her friends. However, I was willing to make the effort to go to the party, until all the bridesmaids decided on the weekend of my birthday.
We have a younger sister who is only 16, so she was not invited. I texted my engaged sister and asked if we could just go on a trip to London all three of us (which is something we've discussed wanting to do before) and she just goes and parties with her friends.
She was not mad at me but instead sounded really disappointed and stressed out, saying 'whatever this thing will probably not even happen' complaining about her bridesmaids. I felt so bad I told her I was sorry and would definitely attend.
I really regret saying that. The planning (I'm not in charge but offered to help her MoH who just gave birth) is not going great, a lot of the bridesmaids are new moms and are keeping the door open to cancel last minute.
They also want everything to be as cheap as possible, but refuse to stay in a hostel. They also don't want to do any activities except eating and drinking and going to a drag show.
I don't mind helping with planning, and I don't mind participating if it's on another weekend, but I feel like I'd be sacrificing a lot in attending that particular weekend.
I'm turning 30 which is a big milestone. I don't want to spend my birthday weekend surrounded by people I don't like & with my younger sister who's getting married before me (I don't resent her for this at all, but I think spending my 30th birthday celebrating her engagement will make me feel depressed; I know it's stupid but societal expectations really got to me).
My partner has offered to take me on a trip to Portugal instead so we can properly celebrate my birthday."
Another User Comments:
"NTJ. But devil's advocate speaking, what if she's not being awful, but insecure? The type of girl who bases her worth on the number of friends she has, not on the quality.
She feels validation from the fact that the cool (mean) girls (MG) picked her. Which means she's cool. Except for deep down, she knows she's not as great as the MG.
So when MG does mean things to her, it's ok. Because they are always going to be better than her (in her mind), and even if they're mean, at least she's part of the 'beautiful people.' This means that she doesn't get to choose the dates.
The MG does. She would never stick up for you with them because of your (imagined) uncoolness. Yeah, she's selfish and cowardly, and maybe shallow as well. But because of this dynamic, she can't see who she really is, just the image of her younger self." becomingunbroken
Another User Comments:
"YTJ if you don't go after promising to do so.
Especially with the context in which you made that promise. I get your side of the story and it's exhausting just to read your post, so I am empathetic to your situation. But it really sounds like sister needs someone in her corner which is why you made the promise without truly thinking it through.
If you all are on good terms, take one for her." 4682458
Another User Comments:
"NTJ
It's not that your sister didn't know about your birthday. She decided to care more about her getting wasted than you turning 30.
Don't go, you would regret it for the rest of your life. Her planning problems for her wedding with her bridesmaids are not your problem. Her decision, her responsibility. Welcome to adulthood." MasterpieceOk4688
---
1. AITJ For Ruining My Friend's Wedding?
Pexels
"So I (27F) have a pretty close group of friends. Me, my friends Megan, Maya, Lily, Mason, Raven, and Devon, and our individual families (Megan's wife, Lily's husband, Raven's son, and Mason's husband. And of course my fiancé.) We're all 26-28-year-old females and are all getting ready to settle down or have already begun.
Megan got married to her lovely wife Clara last year on Halloween, and thank god that night was drama free. Her family is pretty conservative and she married a woman. So I noticed a few young guys at the wedding and I recognized one as an old friend in the business we're all in (all of us are lawyers save for Raven, she's a doctor) and thought nothing of it.
We spent the night dancing with Megan and Clara and getting wasted.
So fast forward about six months and Lily is marrying her high school sweetheart Chris. They've been together I think 10 years and she's about 27 now. Since we're so close, the same people who were at Megan's wedding showed up at Lily's, minus the family of Clara and Megan.
I see the same guy again. No problem there until he asks me to dance. Lily gave no advice. So I took him up on the offer. My fiancé is British and was visiting family back home. We were engaged for about 4 months prior to this.
I was about 2 months pregnant then and it didn't show much. So I danced with him, he had some drinks (I didn't) and he asked me out. I said I'm engaged and we left it at that.
A few months later I'm about 7 months along, but my friend Mason is marrying our longtime friend Luke and of course, I go to the wedding.
And the guy is there. He asks me to dance again, but I refuse because 1) I'm actually carrying twins and I am ultra pregnant, and 2) I am engaged and this guy clearly had no boundaries. He goes away, I go to talk to Mason and she's having the time of her life at her wedding.
All is normal until the guy, now very, VERY intoxicated asks me to dance again. I refused. And he gets so mad. He calls me dumb for not wanting to go out with him while my fiancé is away, not wanting him, and for refusing a friendly dance.
Obviously, his intentions were anything but friendly. I don't know about other women, but my hormones are absolutely insane at the time. I have no idea how my fiancé puts up with it. So I started screaming back, saying I value my relationship and he needs to back up and he's being a creep.
Mason was crying, but she kicked him out of her wedding and left. My friend Lily isn't being rude about it, but she thinks I overstepped and should apologize to Mason.
This was only a week ago. Mason hasn't talked to any of us since. This guy found my social media and said he wants me to apologize and then we can be friends but I'm not going to if he asks.
I told him I don't want to be friends if this is how he wants to act. Am I the jerk for yelling at him and ruining Mason's wedding?"
Another User Comments:
"NTJ. You didn't 'ruin' the wedding. You were relentlessly harassed by some random person and pushed to the point in which you had to stand up for yourself.
If anyone 'ruined' the wedding, it was the creepy guy who harassed you and started calling you names.
Honestly, this guy sounds absolutely unhinged. A mentally healthy and stable person does not get irrationally angry when a woman, who is engaged and 7 months pregnant, turns them down and then continues the harassment by stalking you on social media and sending messages.
You really need to keep your guard up and watch out for this guy. He sounds unstable, please stay safe!" Madison_M_M
Another User Comments:
"I'm going to say everyone sucks here – the guy didn't respect your boundaries/decision and insulted you. However, you began screaming at him which ruined the atmosphere of Mason's wedding – leaving them in tears." sleepy_squid102
---
It takes bravery to let your reputation be determined by online strangers. It's now your turn to decide who you believe to be the real jerks in these stories. Upvote, downvote, and comment on your favorite stories by signing up for a Metaspoon account. Click Log In at the top right corner of this page to get started. (Note: Some stories have been shortened and modified for our audiences)